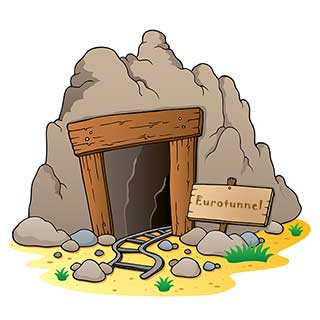 Authorities on Thursday halted all traffic running through the 50-kilometer (30-mile) Chunnel after a fire broke out inside the tunnel, which runs between Britain and France underneath the English Channel, Eurotunnel and fire officials said.

The fire started on a shuttle train carrying freight as it approached France, Eurotunnel said. No passenger trains were going through the tunnel at the time of the fire.

The fire continued to burn nearly four hours later, according to Georges Bos, the prefecture of France's Pas de Calais region.

French rail authorities said the tunnel will be closed at least until Friday morning.

The French Interior Ministry said some people were injured in the incident, but did not specify how many or the nature of their injuries. Bos told BFM-TV that six people suffered from smoke inhalation.

The fire broke out around 2:55 p.m. (9:55 a.m. ET) -- reportedly on one of the trucks being shuttled by the train -- about 11 kilometers (7 miles) from France, officials said.

Thirty-two people were evacuated through a central service tunnel that runs between the east and west tubes, Kent fire officials said.

Eurotunnel authorities suspended services in both directions to allow emergency vehicles to get to the fire. The tunnel closure will affect thousands of travelers, according to Simon Montague, a spokesman for the Eurostar train system.

"Probably at the order of 2,000 who were actually in transit, and several more thousands who would've been hoping to travel with us tonight," he said. "Obviously our highest priority tonight is to help those travelers who have not been able to complete their journeys."

The tunnel runs through England's Kent County and police there may have to implement "Operation Stack" -- in which trucks that are waiting to be shuttled through the tunnel would be lined up on the M20 highway. People who were planning on driving along that route are being asked to "delay or vary" their travel, according to the Kent police Web site.

Eurostar issued a statement Thursday night saying that service will be suspended Friday, and passengers holding tickets for Friday "are advised not to travel." Passengers can exchange their tickets for travel on a later date or get a refund.

Those holding tickets for Saturday or Sunday travel should check Eurostar's Web site for updates, the company said.

The $15 billion undersea tunnel opened in 1994 and has drastically reduced land/sea travel time between Great Britain and mainland Europe.

A massive fire broke out inside the tunnel in November 1996, causing structural damage but no serious injuries. A truck on a Eurotunnel lorry shuttle caught fire before the train entered the tunnel, and the fire spread to nearby cars.

That fire was caused by the vehicle's traction system and had "nothing to do with the cargo or the people," according to Colin Brown, director of engineering at the Institute of Mechanical Engineers.

"It will be very interesting if we have the same issue, I doubt that we will," Brown told CNN. "My expectation is this will be a different issue."